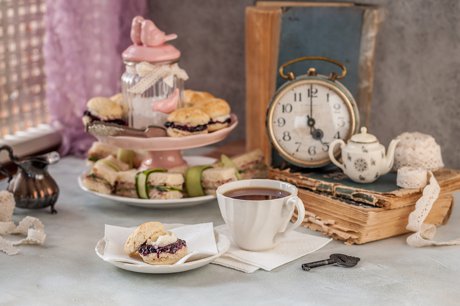 Take time for tea on Carefree property. At the English Rose Tea Room it's cups raised and pinkies out. Those partaking often dress for the occasion, and a trunk filled with vibrant and frilly hats are on site just in case someone forgets that important accessory.
A light hearted menu pairs perfectly with an abundant selection of loose leaf teas. Toasts ring out over a fancy table set with scones, finger sandwiches, quiches, clotted cream and preserves.
For over a decade Phoenix Magazine has declared the Carefree property "the best place for afternoon tea." The inside decor is as quaint and cozy as an English sitting room. Outside on the patio there is a romantic air with plenty of shade from the warmth of the Arizona sunshine.
Mind your Manners when Living in Carefree
There's a time and place for everything and during certain occasions manners are a must. Etiquette classes are offered at the tea room for young ladies and gentlemen just emerging into the world. Highlights include how to set the table, silverware usage, conservation and more. Refreshments are served during the course earning smiles all around the room. Interested parties can call 480.488.4812 for additional information.
Special times are always happening here. Celebrations include honoring events held across the pond such as Queen Victoria's 200th birthday, the royal baby shower for the Duke and Duchess of Sussex and more. Traditional events include Spring Carefree Restaurant Week, Mother's and Father's Day teas, Nutcracker teas, holiday storytimes and poetry readings. Sign up for the English Rose Tea Room newsletter and stay informed of all upcoming events.
Conveniently located at 210 Easy Street, Suite 103, residents living in Carefree can stop in for tea any day of the week. Folks are welcomed in Monday through Saturday from 10 a.m. to 5 p.m and on Sunday from 11 a.m. to 4 p.m. Stop in for a spot of tea and have a jolly good time.